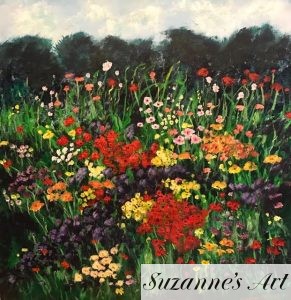 Celebration of Color At Tower Hill in Boylston, MA
Thursday, July 20, 10am-1pm OR Sunday, August 6, 1-4pm
Member $45, Non-member $60 per class – (Includes all Materials)
Instructor: Suzanne Foxwell
New to acrylics as a painting medium? If you always wanted to try a painting class, but were put off because you could not draw a straight line, this program is for YOU! Suzanne will guide you with fun warm up exercises and expert step-by-step instructions designed to show you how to capture the shapes, textures, forms and colors of the flowers and foliage of Tower Hill's summer gardens.
Suzanne Foxwell has many years of painting experience and has trained at the Worcester Center for Crafts, Worcester Art Museum and with private instructors. Her work has been featured in galleries on the Massachusetts South Coast and locally.
She has always been attracted to color and has never met one she did not like!
SKILL LEVEL: BEGINNER – No Previous Painting or Drawing Experience Necessary!!!
To Register for this class, contact Tower Hill